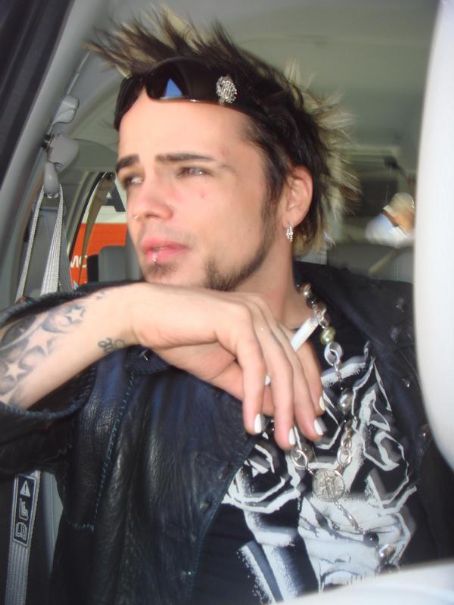 So needless to say, I was stoked. Decked out in a white blazer, tight pants with enough wallet chains to attract a herd of muggers, hair that looked like he had just rolled out of bed, dirty make-up all over his face and a swagger that was reminiscent of some sort of freakish combo of Freddy Mercury, Mick Jagger and Scott Weiland, was Lukas Rossi from Toronto.
So after a few grueling months of competition, cameras filming his every move, typical reality show-infighting and the pressure of millions upon millions of people watching and voting online for their favorite singer every week, Lukas took home the ultimate prize.
Lukas, who spent some of his youth living on the street while working shitty jobs and playing in dive bars trying to make ends meet, was then thrust in the spotlight as the new supergroup recorded and released an album, embarked on a sold out world tour and then to the disappointment of many including Lukas himself , suddenly disbanded.
Fast forward to last month, when I heard that Lukas would be coming to Montreal to play a show at a small club with his new band Stars Down.
A couple of us decided to go check out the show, and I figured I would take it one step further and see I could score an interview with Lukas. A quick email to his manager was met with a quick response saying that Lukas would be stoked meet me.
After you won the Supernova gig you guys recorded and released an album, toured together for about a year and then eventually everyone went their separate ways. Describe that experience as a whole and what ultimately lead to the split. The whole Supernova experience was a blessing for me man. I mean I had never toured for more than a couple of weeks prior to that and I was playing in small clubs and then all of a sudden I was on a six-month world tour playing stadium shows for 20, people.
But I feel truly blessed to be where I am right now because I still get to play every night with my new band and not have to get up every morning and go to some mundane job. You recently reunited with Supernova for a night to play a show for Tommy Lee's project Battleground Earth.
Shit, I better learn the lyrics for the song laughs. How'd that all come about, and how's it going? And you know the more we play the better the songs evolve. I think being impersonal with the crowd is pretty arrogant.
You know the whole concept of security guards being between you and the people that love your music. What are your plans for the immediate future? You're originally from Toronto. Where are you living now? Oh well they can cry if they want laughs. You're really mellow in person and but you've got a very powerful and energetic stage presence, as anyone who's seen you play can attest to. Were you influenced by other front men growing up?
Do you ever miss doing that? And that shows who my real fans are to be honest. What would you say has been your favorite moment in your career thus far? So when I found out that we were going to tour together I thought it was the coolest thing going. Because of those fans, and as opposed to the money, the cars and the houses that many people would judge success in the music industry by, would you say that you've made it?
Well first off, fuck the money, fuck the cars, fuck the houses. What advice would you give to anyone out there who has a dream and is having a tough time making it come true, and is thinking of throwing in the towel?
Well you gotta break a sweat before you throw in the towel. And you being special in your own way in this world is something that no one else can duplicate. Oh yeah man, I love skiing. Where did you use to ski growing up?
When was the last time you went? Way too long ago. I use to shred with my Dad like 15 years ago. I gotta get back out there! Well just give us a call anytime. Thanks a bunch Lukas.