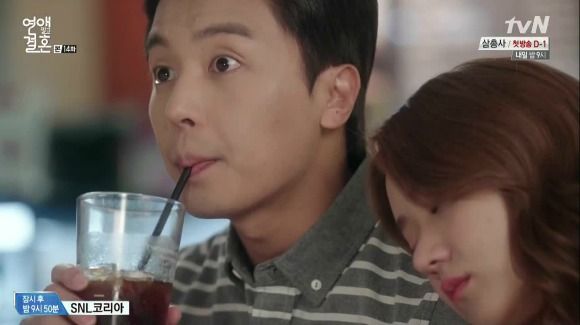 Jang-mi especially starts to realize that this thing is getting out of hand when it and her suddenly enthusiastic new mother-in-law start to take over her entire life. Ki-tae and Yeo-reum are spooning on the couch and awww, Little Spoon Ki-tae is smiling! Jang-mi shudders to see them snuggled up, and pokes the boys awake. Ki-tae shoves Yeo-reum to the floor and hugs himself in horror, but Yeo-reum only seems mildly surprised, thinking he was spooning with Jang-mi.
We see that last night when Ki-tae saw them on the couch together, he had carried Jang-mi to his bed. She must be a heavy sleeper because he just dumped her on the bed, but went back to cover her with the blanket. Yeo-reum accuses Ki-tae of being jealous, but Ki-tae insists he was just being chivalrous to let the woman use his bed. She comments that they must be living together now, which Ki-tae runs with, earning a smack from Jang-mi.
Mom then wants to see the bedroom and luckily, Yeo-reum hears her coming in time to hide behind the bed. Ki-tae says that Jang-mi will handle all that, but Mom says she wants to do it for them.
She calls Jang-mi informally by her name for the first time, and Jang-mi hears it in that weird echoing tone from the opening scene. Shocked faces all around.
Mi-jung quips that her best can be scary, and Mom says the scary thing will be if they actually get married. Jang-mi appeals to Ki-tae to do something, worried about her parents if the families meet, and he just sighs that he understands.
Ki-tae says uncomfortably that he wants to talk to her about that, and she offers to meet him at his office. Yeo-reum sits with Ki-tae and thanks him for ending things with Jang-mi now. A prickly Ki-tae asks what it has to do with him, and Yeo-reum says that now he can date her openly. Ki-tae bristles even more, and Yeo-reum seems to take pleasure in detailing all the couple-y things he plans to do with Jang-mi and watching Ki-tae get flustered.
Jang-mi feels bad and starts to tell Hyun-hee the truth, but is interrupted by a text from her mother. She finds Ki-tae at his office and demands to know what he did to her mom. Ki-tae says with satisfaction that he just did a teeeeny little eye surgery on her, no big deal. He says they just have to block the family meeting. HAHA, is he planning to keep up the fake engagement to keep her from dating Yeo-reum?
He pretends dismay when Mom points out that the family meeting is this weekend. Mom makes her swear not to mention she had plastic surgery, but Jang-mi says she has more sense than that.
The families exchange formalities while Jang-mi and Ki-tae have this hysterical silent conversation just with their facial expressions: She says that she will take Jang-mi to do everything that needs doing. They accuse each other of being rude and unmannerly, and Jang-mi goes to her room for some peace. She gets a text from Ki-tae asking her to come outside, and he shyly gives her a gift for her parents.
Ki-tae asks if her family is okay Jang-mi: She flounces out to the waiting room still in the drape, hee to protest her loss of dignity. Jang-mi protests again, but Mom just insults her dedication to the family and sails out with a smile. By the time she breaks free and joins him, the restaurant is closed, but he cheerily holds up a bag of takeout with a smile.
She asks for him to pay her back for the wedding gifts she bought, and a stunned Ki-tae tells Yeo-reum that she must want to marry him for real. Good-natured Yeo-reum invites Ki-tae to eat with them, but it backfires on him when Ki-tae and Jang-mi bond while planning how to deal with his mother.
HAHA, did he just hijack their picnic? Ki-tae bikes as far as he can, Jang-mi complaining the whole time, until he finally runs out of steam on a steep hill. He latches onto this — did Yeo-reum ask her to officially date?
She admits that they have, and Ki-tae accuses her of being easy for moving so fast. Mom has already chosen a gown and literally shoves Jang-mi to the dressing room. Jang-mi gets all calf-eyed when she tries the dress on, and has to remind herself that no matter how gorgeous the dress is, she has to stay sharp. Se-ah finds Ki-tae at the gym and apologizes for trying to trick him, but he refuses to even look at her.
She says that she wants to make up and invites him on a trip to the beach, once again pushing just that one step too far. Ki-tae just says that he hates crowds and leaves, accidentally leaving his phone behind.
You know, I hate how manipulative this lady is, but I have to give her props for being good at it. Jang-mi tries calling Ki-tae again for a rescue, and Se-ah finds his phone where he left it at the gym. She answers, and Jang-mi is desperate enough to tell her where she is.
Next Yeo-reum texts Jang-mi to remind her that they were supposed to run away together. Se-ah meets Ki-tae at his car, returning his phone and telling him that Jang-mi needs him, offering to take him to where she is.
Ki-tae looks extremely wary, but Se-ah assures him that she wants to be on his side and holds out the memory card with the photos of Jang-mi and Yeo-reum. A more demure dress has the mothers worrying over the high price tag.
Jang-mi flees out into the street just as Ki-tae and Se-ah arrive at the dress shop. Behind Jang-mi, the mothers come out and call to her.