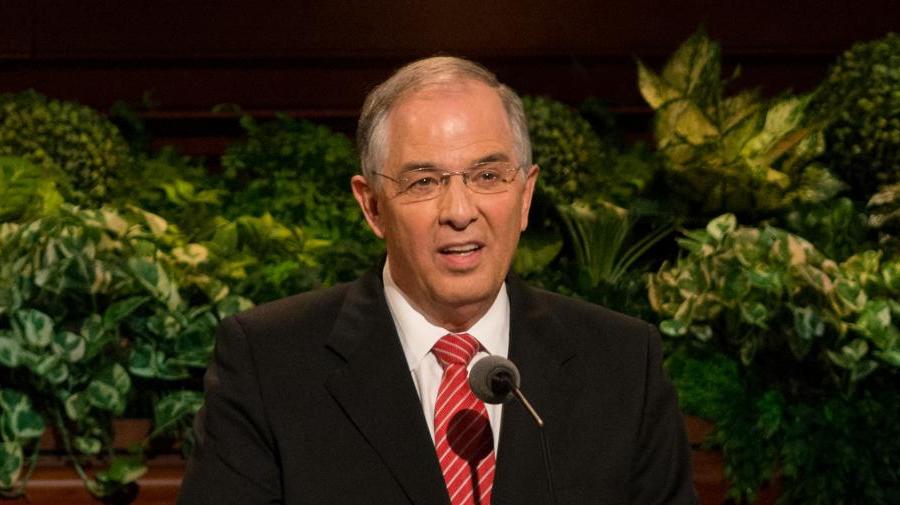 For the benefit of the audiences out there, I want to say what a large group of young adults we have in the Pocatello area. They number approximately 10,, and about 7, of these are in the student body of Idaho State University, whose president, Arthur Vailas, is here with us this evening with his wife. The total enrollment of Idaho State is about 14,, so our Latter-day Saint student representation is about 50 percent. This is a remarkable community of Latter-day Saints in southeastern Idaho, and we feel especially blessed to be here on this occasion to originate this CES broadcast.
That stimulated so many reactions that I believe I should revisit that subject before proceeding to the main subject of my talk tonight. For the benefit of those who have not heard about this, and to refresh the recollection of those who have, I give this brief summary of my earlier message. First, I joined other observers in expressing concern at the tendency of many young people in their twenties to postpone the responsibilities of marriage and family life.
Second, I shared the opinion of knowledgeable observers that dating has nearly disappeared from college campuses and among young adults generally. One of the letters sent to me after my talk—by the way, I think it came from a woman here in Idaho—provided a new and better definition.
I then gave this advice, which I quote from that fireside talk: Gather your courage and look for someone to pair off with. Start with a variety of dates with a variety of young women, and when that phase yields a good prospect, proceed to courtship. That is what the Lord intends for His young adult sons and daughters. Men have the initiative, and you men should get on with it. I heard it from my year-old granddaughter.
An occasional group activity is okay, but when you see men who make hanging out their primary interaction with the opposite sex, I think you should lock the pantry and bolt the front door. I received some letters of thanks, mostly from women. They had not done much dating, so neither of them had learned to pair off in a social setting. Now their marriage is in trouble because each of them continues to hang out—he with the guys and she with the girls.
Time forbids reviewing many more of these letters, but I offer one more because it probably represents experiences that are typical. This letter arrived about a year after my talk. It was signed by a couple who thanked me for their happy marriage. They reported that they had both been students in graduate school and friends in a singles ward. He asked her if she wanted to date just for fun and to get better acquainted.
After considering this for a few days, she informed him that she was not interested. A few months went by, and then my fireside address provided some needed impetus. If we are to persuade young men to ask for dates more frequently, we must establish a mutual expectation that to go on a date is not to imply a continuing commitment.
We were married the following May in the Washington D. Your direct and clear counsel helped us realize that dating was an opportunity to get to know one another better and not an immediate commitment to a long-term relationship or marriage.
As I said in my talk: The old-fashioned date was a wonderful way to get acquainted with a member of the opposite sex. It allowed you to see how you treat others and how you are treated in a one-on-one situation. It gave opportunities to learn how to initiate and sustain a mature relationship. Now I want to introduce my date for this occasion, my wife, Kristen. Girls, hope springs eternal. And men, that goes for you too. We love you and are so honored to be with the noble and great rising generation of the Church.
You are the future, and you are magnificent. There is so much joy and beauty ahead for you. We also know that being single poses unique challenges—decisions about education, marriage, and dedication to your family and your religion. I wish to address four things tonight that are on my heart: The Lord is depending on you to assist in the exaltation of your eternal family.
Cook addressed this subject in the October general conference. I want to testify that what she said is true. Your energy, your enthusiasm, and your example have such an affect on your family—even if it comes in the form of letters or telephone calls. The young singles in my family are a delight, and their devotion, dedication, sense of humor, and faith provide a glue that literally holds our family together. You matter, and you make a difference. Be good to one another.
We desperately need kind words of encouragement. Those words can come from your lips. Start now to use them and they will be an eternal blessing. Brethren, I speak to you. Never be afraid to build those around you. What you say will be remembered a very long time. Elder Oaks wrote in his high school yearbook lines of praise to a young woman who would, as an adult, become the president of a general auxiliary in the Church.
Over 50 years after he had written them, she used those words in her biography. All of us need to be uplifted. Sisters, you are surrounded by so many handsome, good, and righteous young men.
I was reminded of this as I went through the bank drive-through last week and saw two noble priesthood holders in the camera. Sisters, your words of encouragement and your vision to see the potential and goodness in others, especially the men around you, will bring great dividends.
We grow and flourish when we are praised and valued. Kind, true words are a gift you give yourself and others, and they will continue to do so into your marriage. Many of you are in singles wards. There is no separate Church for singles. There may be wards or branches or classes for singles, but we are all part of the same Church. There can be much joy in attending a singles ward—activities and parties and service projects and spiritual guidance.
There are opportunities to bond with others with similar interests and age and to meet new friends. However, in this environment of possible future mates and with only a short window of time, some singles focus almost all their energy in a frenetic search for a husband or wife. Instead of enjoying this unique time to meet with others in a similar single situation, they become preoccupied by a nagging fear that marriage is escaping them.
They become more frustrated and concerned with their single condition. You want to make decisions that count. But sometimes, making these decisions seems very difficult. Why is it so difficult? Holland addressed that problem while talking to missionaries about their struggles in the mission field.
He spoke about the price we must pay to return to Heavenly Father. His advice applies to anyone who is struggling to know and serve God. Many of the missionaries he addressed were frustrated, seeing little success, and wondering if their missions were of worth. It is the truth. We trust in miracles. I offer this as my personal feeling. It is not Church doctrine. I am convinced that missionary work is not easy because salvation is not a cheap experience.
Why would we believe. How could we possibly bear any moving, lasting testimony of the Atonement if we have never known or felt anything of such an experience? As [members and] missionaries we are proud to say we are disciples of Christ—and we are. But mark my word. That means [we] must be prepared to walk something of the path He walked, to feel something of the pain He felt, to at least occasionally.
Salvation is not a cheap experience, and we should remember that. Never let any trials stand between you and your allegiance to your Heavenly Father. Never let any insult or challenge separate you from partaking of the sacrament and lead you to spiritual weakness and possibly to a spiritual death. Hold fast, and remember what you know to be true.
Deciding whom to date. Elder Oaks and I both know very well what it is like to be a single member of this Church. He was a widower for 2 years, and I was single for more than 50 years. It seemed like a world record! We know what loneliness is and what it feels like to weep at night until your pillow is wet. We have been asked the same question many times recently. It goes something like this: What do you suggest?